The Australia-based artist's work is emblematic of the movement protesting against Saudi Arabia's guardianship laws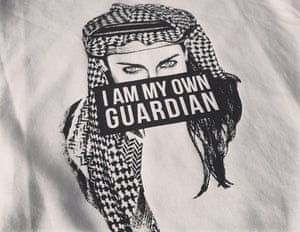 The Saudi visual artist Ms Saffaa is a petite woman with cropped hair framing a pixie face. Her mural, plastered on a studio wall at Sydney University's College of the Arts almost dwarfs her.
It is a riotous mix of calligraphy, graffiti and portraits featuring the women's rights activists Manal Al-Sharif and Samar Badawi, both part of a nascent movement protesting Saudi Arabia's guardianship laws.
The protest gained steam after the July release of a Human Rights Watch report, which was critical of the laws prohibiting a woman from travelling, marrying or even leaving prison without the permission of a male guardian.
The movement gave birth to a hashtag, #iammyownguardian, and a petition signed by thousands, part of a growing online campaign protesting against the laws.
The 39-year-old artist, who moved to Sydney to study at the SCA in 2009, says the inspiration for her art came from continuous run-ins with Saudi authorities over her visa.
A condition of Saffaa's now lapsed government scholarship required her brothers to fly in to Australia to vouch for her. But it was the hours of humiliating pleading with Saudi bureaucrats in Canberra that fuelled the rage behind her protest art.
"You have to play their game," she says. "You have to act like the weak woman and say, 'Thank you for doing this for me, it's a huge favour.' You have to play that role in order to get your shit done."
Saffaa's posters, featuring a face shrouded in the Saudi shemagh and the hashtag #iammyownguardian, became emblematic of the movement. They were plastered on Saudi streets, retweeted and sold online.
It led Saffaa into a thriving underground online protest scene filled with local and expat Saudi women. Many were housewives, sharing stories of life in the regime. Saffaa says Saudi women defending the laws were generally from the ruling class with ties to the government.
"Those who have really good jobs, really good pay and connections to government have a lot to lose," she says. "They will tell you we're content."
For Saffaa, speaking up has its costs. The artist, who uses only her first name, has suffered harassment and been reported to Saudi authorities by trolls.
"[They say], 'Let's all report her, let her rot in jail, let's see her make art behind prison bars.' I thought I was immune to online bullying and harassment but it got to me."
At an exhibition at Melbourne's Islamic Museum of Australia, the artist was accosted by a man demanding to know why she was exposing Saudi's dirty laundry to the west.
"Before I could even speak I could feel the anger inside me," she says. "I was sweating. I felt the heat coming out of my face … a man comes with all his privilege and entitlement, and asks me why am I airing our dirty laundry to the west?
"First of all you're admitting that it's shameful, there's shame behind the question. But you're coming to me and telling me not to do something, trying to censor me.
"I was thinking, 'That's exactly why I make this art, because of people like you.'"
The sneakers-wearing activist uses street art and social media to promote millennial-style political protest that is transnational and cyber-driven but still rooted in the street.
This Sunday, Saffaa will unveil a new street mural in Melbourne's Brunswick East, a collaboration with several female artists as a tribute to Saudi women. The launch will be hosted by Moroccan Deli-cacy cafe owner and community activist Hana Assafiri, known for hosting public salon-style conversations at her Melbourne restaurants, including the hit speed-date-a-Muslim series.
Saffaa says her work is motivated not only by political injustice but a visceral need for self-expression.
"What the role of the artist is goes back to the question of, what is the role of art?" she says. "It goes beyond trying to raise awa
Part of her activism is borne out of subverting the western framing of Saudi women as victims, rather than as agents of their own liberation. This co-opting, she says, only furthers the infantilisation they were fighting against, with women used as pawns in a cultural battleground of rising Islamophobia.
"Don't say Saudi women don't have a voice. We have a voice. You just haven't been paying attention."
Saffaa says the fight for women's rights in Saudi Arabia is part of broader struggle against state authoritarianism, for the rights of all minorities. As a believer, she questions the way the kingdom sought legitimacy through a hardline Wahhabi interpretation of religion.
"There's so much policing of women's bodies and even men," she says. "I think faith is a personal thing and in Saudi they make it a public thing. You have to display your faith everywhere you go."
• A new work by Ms Saffaa and several other female artists – in tribute to Saudi women and women in conflict zones – will be launched on 4 December at Moroccan Deli-cacy in Brunswick East, Melbourne
This article was originally featured in The Guardian on December 1, 2016.